Fishing gears
Dredges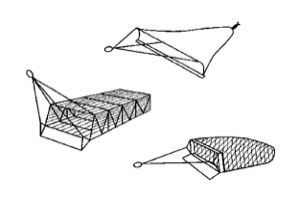 Dredges are gears which are dragged along the bottom to catch shellfish. They consist of a mouth frame to which a holding bag constructed of metal rings or meshes is attached.
Related links
Gillnets and similar nets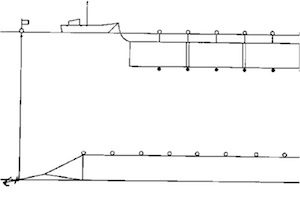 Gillnets and entangling nets are strings of single, double or triple netting walls, vertical, near by the surface, in midwater or on the bottom, in which fish will gill, entangle or enmesh.
Related links
Hooks and lines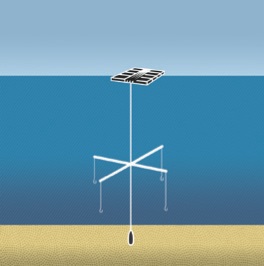 Hooks and lines are gears where the fish is attracted by a natural or artificial bait (lures) placed on a hook fixed to the end of a line or snood, on which they get caught.
Related links
Pots and traps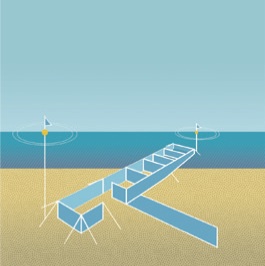 Traps, large stationary nets or barrages or pots, are gears in which the fish are retained or enter voluntarily and will be hampered from escaping.
Related links
Seines
A seine net is a very long net, with or without a bag in the centre, which is set either from the shore or from a boat for surrounding a certain area and is operated with two (long) ropes fixed to its ends (for hauling and herding the fish).
Related links
Surrounding nets and lift nets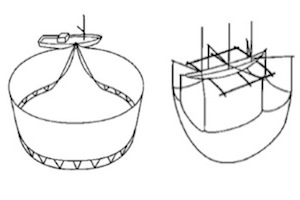 Surrounding nets are large netting walls set for surrounding aggregated fish both from the sides and from underneath, thus preventing them from escaping by diving downwards. Lift nets are horizontal netting panels or bag shaped like a parallelepiped, pyramid or cone with the opening facing upwards which are submerged at a certain depth, left for a while, the time necessary for light or bait to attract fish over the opening, then lifted out of the water.
Related links
Trawls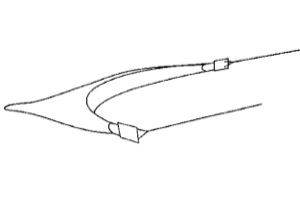 The trawl nets are cone-shaped net (made from two, four or more panels) which are towed, by one or two boats, on the bottom or in midwater (pelagic).
Related links
Data sources